---
---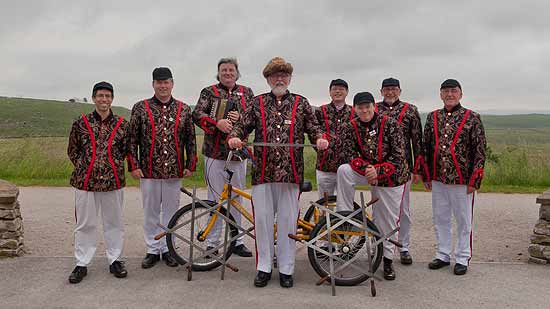 Welcome to the Grenoside Sword Dancers website. If you would like to have a go at sword dancing, please come along to one of our practices every other Thursday at 8:30pm, at Grenoside Reading Room.
---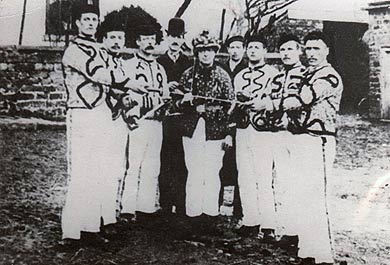 Who are we?
Grenoside Sword Dancers is a traditional sword dancing team that has its origins going back at least 150 years, though it is probably much older. The team consists of six dancers, a captain and one or more musicians. Each dancer holds a sword by the hilt in his right hand, and the tip of the sword in his left hand that belongs to the dancer to his left. Then an intricate dance is performed where the swords are held for the most part in an unbroken chain.
What is our dance?
The Grenoside Sword Dance is a unique sword dance. Although many of the moves it contains can be found in other sword dances, the dancers wear clogs and perform a breakstep between figures. The dance also features the ritual 'beheading' of the captain near the beginning of the dance.
---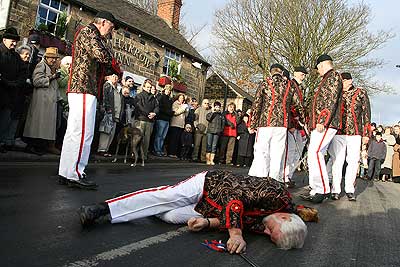 What do we do?
You can find us every Boxing Day at 11am outside The Old Harrow Inn on Main Street, Grenoside, but we also do much more than that! We reguarly perform at local events, national and international festivals, and competitions. We also perform on our annual 'traipse' around Grenoside village, on the first Saturday after the first Sunday in January - so in 2018 this is the 13th. In 2010 we celebrated the centenary of folk archivist Cecil Sharp's visit to collect the Grenoside dance with a number of special events and shows, including the acclaimed 'To Slay a Bullock' which we devised and performed with the Newcastle Kingsmen Sword Dancers. In 2014 we performed at a number of events on and around the Tour de France route as part of the cultural festival, and performed in Grenoside when the Tour passed through the village.
---
Visitors: 18314
---